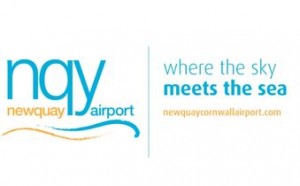 Weston Aviation have agreed terms on a new long term lease and contract for the provision of fixed based operations at Newquay Cornwall Airport (NQY/EGHQ) in the south-west of England. The new building will provide 8,800 sq.ft. of passenger and crew lounge area, meeting rooms, pilot rest areas and self-briefing facilities for business aircraft owners and crews and GA pilots.
"This is our fourth move to ever increasing facilities in relation to size and facilities offered to our customers at Newquay Cornwall Airport since we opened there in 2003, which confirms our commitment and continuing investment to the airport and the surrounding region. We are delighted to secure a long term future at Newquay and in turn reconfirms our commitment for many years to come to the airport", said Nick Weston, the company's founder and Managing Director.
Opening in July, ready for the summer period, the new facility that forms part of the new Aerohub cluster of aviation businesses at the airport, will ensure that Newquay Cornwall Airport continues to be the main business aviation airport of choice for the south-west of England.
Al Titterington, Managing Director of Newquay Cornwall Airport said "Business Aviation is a significant part of our business and the growth over the last few years has necessitated this further investment in new facilities. The new FBO will allow Weston Aviation to continue to grow and I'm excited about the potential and the long-term commitment they are making to the Airport".
Weston Aviation is the UK's second largest FBO network in terms of locations and operates bases at Newquay Cornwall Airport, Doncaster Robin Hood Airport, Durham Tees Valley Airport and Humberside International Airport. Specialising in developing regional airports, Weston Aviation also offers aircraft charter, management, Jet A1 and Avgas fuel services, hangarage and trip support and flight representation.
Published on May 22, 2015